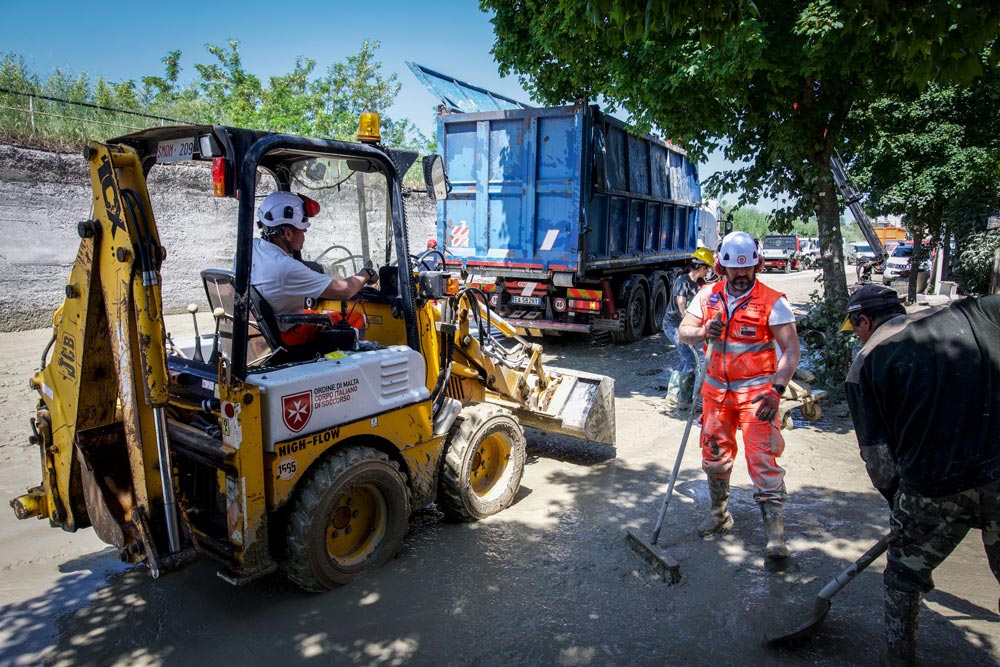 This past spring, the region of Romagna in Northern Italy was severely impacted by floods and overflowing. Numerous roads were closed or damaged due to landslides and flooding, forcing thousands of people to evacuate their homes. Additionally, countless businesses suffered the loss of their offices and machinery.
In collaboration with local authorities, the Italian Relief Corps of the Order of Malta swiftly responded to the emergency, mobilizing their dedicated personnel and resources to provide essential assistance to the affected population.
Throughout the entire emergency period, CISOM volunteers with specialized skills in utilizing pumping equipment, earth-moving machinery, and emergency radio communications worked tirelessly in the field, supporting relief operations and aiding the affected communities.
However, even after the natural disaster subsided, the emergency was far from over. While we have been able to help many individuals by clearing basements, restoring electricity to homes, and reinforcing embankments, we firmly believe that those who have lost everything should not be left to face the aftermath alone. For them, the emergency continues.
That's why the CISOM and the Order of Malta are committed to supporting reconstruction projects. Our aim is not only to rescue people from immediate danger but also to ensure that they regain stability and rebuild their lives. We want to stand by them until the entire emergency is truly over—for families to return to their homes and for children to resume their education.
This is where we humbly ask for your assistance. In addition to confirming your successful connection with us, we kindly request your generous contribution. Join us in supporting the ongoing reconstruction efforts in Romagna and help us make a lasting difference in the lives of those affected.
How to donate
Paypal
You can easily donate with Paypal. Donations (all are greatly appreciated) will be published on the sponsors section of the website.
All the income remaining after covering postal expenses will be contributed to the CISOM charity project. If your donation exceeds $100, your callsign will be featured on the QSL card.
!!! Don't forget to add your callsign in the notes